Who hasn't heard of the phrase – 'Parents are always right'. From the very moment we are born until we are full grown adults,  wise enough to make our own decisions, it is our parents who take care of our every need, plan and nurture our growth, and solve our problems. And that can never change.
What can change, and in fact, is changing, is the way it is done. Technology has found its way into the art of parenting. Innovators and developers from all over the world are creating software, hardware, and complete platforms to help parents go about the hallowed responsibility of shaping a life. And modern parents are adopting these changes for the betterment of their children as well as making their own tasks, as parents, much easier. After all, striking the right balance between care, love, discipline, encouragement, education and fun isn't child's play!
The main areas where parenting is infusing with technology are smartphone apps, devices, and a complete platform in the form of children's tablets. App developers are creating applications that are meant to help children learn while having fun along with other apps that are for parents to monitor the baby'sgrowth, take care of pregnant mothers, and more. Device manufacturers are picking up this mantle by making changes to the more common childhood possessions like the pram and the cradle by turning them into smart devices. On the other hand, they are also making devices, using IoT and otherwise, like sleep trackers, that parents can use for a number of purposes.
The Apps
The part of childhood that has changed the most due to the influence of technology is education. Information and even full fledged online courses are a mere Google search away, but how can a parent trust the source of that information? A survey reveals that the internet is the second most sought mechanism of redressal for parents. But, as many parents would agree, unleashing the internet into a child's world, expecting it to be a benign source of educational information and nothing more, is not exactly a brilliant idea. This is where the idea of using an app as a learning platform makes sense, because the content on apps is chosen by the developers for a specific target audience, and along with that a number of such apps come with quite a few useful and innovative features. As Mr. Jairaj Bhattacharya, MD, ConveGenius puts it, "Parents are choosing to provide digital devices to children. This is because children are exposed to gadgets like smartphones for entertainment and games anyways. If these gadgets could further learning outcomes and improve them psychologically, it serves as a win-win for the parent and the child. Also this serves as a great approach to fill the gaps that working parents face today due to lack of time towards their study."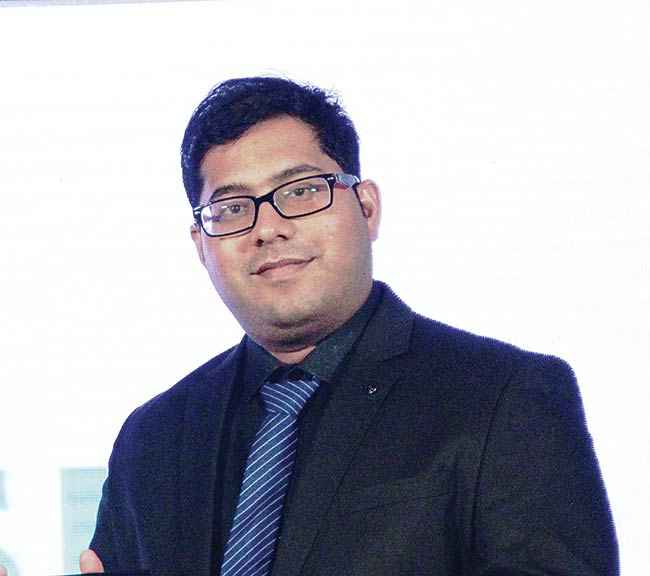 Mr. Jairaj Bhattacharya, MD, ConveGenius
While there are quite a few apps that directly help the education of a child, there is not much parenting involved in those other than installing the app and probably choosing a subscription plan. Take Vedantu, for example. The online tutoring platform is highly effective in its one-on-one tutoring method, but does not provide any option for the parent to monitor the child's progress without taking over the device themselves. Of course, the content on Vedantu starts from the 4th standard, but that doesn't mean that it wouldn't benefit from taking parents into the loop in a better way.
On the other hand, services like Uolo are trying to connect Parents, Students and Teachers on a common platform. Uolo is a Parent-School communication platform that aims to bring important information as well as small tidbits to all parents, simultaneously. Essentially a one-way messaging app, it allows the teacher to create groups of students on the app, and when a parent installs the app and logs in with credentials from the Uolo team, they can receive the messages sent by the teacher on the group. This aims to involve parents better in the schooling process. They have Android and iOS apps, a desktop website, and an SMS service. And it's not even the only offering trying to do this. US based remind.com and Mumbai based Knit App are also offering services that aim to streamline the communication between parents and students.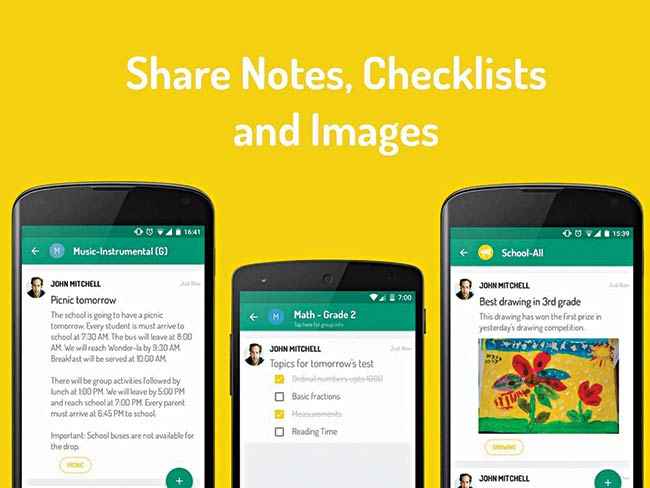 Parent teacher sync app Uolo Notes is currently working on Reminders and File Attachments
Appystore.in is another platform that focuses on providing good quality video content for kids of various age groups between the age of 1.5 to 8 years old. Content on the platform is filtered by age group and a parent can track the progress of their child based on videos viewed. A survey by Appystore, conducted with over 1000 parents across India, reveals that 58% of parents agreed that digital learning helps children learn new concepts. "Only 5% of the preschool population are enrolled into a preschool. Hence, what is regarded as the most important developmental years for a child gets no guidance in India. As such in the absence of strong offline infrastructure and availability of digital options is making newer generations look towards the internet and digital to satisfy the need for parenting support and information," says Mr. Manoj Barot, Director Marketing, Appystore.in.
But education comes at a much later stage in a child's life. New and expecting parents have a lot more to deal with, and with nuclear families soon becoming the only type of families out there, they don't really have a source of trusted experience based information. And when it comes to advice, almost every other person recommends something completely different. So when BabyChakra launched in 2014, it had one goal in mind – to connect parents to the services they need, without taking any risks on the trust front. Ranging from expecting parents to parents of toddlers, Babychakra allows parents to look for specific services like nutritionists, party planners, art classes and more. They can see reviews from other parents about any specific business on the platform and can also follow 'MomStars' on the platform, who are mothers who have signed up as experts on the platform.
A more comprehensive approach is offered by the My Child App. Available and used in 135 countries, this app regularly asks you questions about your child to track their growth between the age of 1-24 months and offers you advice in case it detects something unusual. It also connects you with doctors via an integration with Practo and lets you store all the prescriptions and reports in one place.
The Toys
While apps and video based platforms do make the learning process enjoyable and interesting, continuous exposure to a digital display might end up being quite harmful to a child's vision. Also, not all parents are sure about handing over their own devices to their kids. After all, would you be comfortable giving your latest smartphone to a 2-year old? Keeping all these concerns in mind, manufacturers and startups are coming up with interesting products that are meant to engage the kid physically as well as provide digital content.
Flintobox is a subscription based Indian startup that ships engagement kits to your doorstep. This is especially useful for parents who are too busy with work-life to sit and figure out the activities that will benefit their children. A typical Flintobox is theme based and contains multiple indoor activity kits like Mini Golf, along with educational content based on the theme that helps children learn more about the topic while having fun. Magic Crate and Kompanion's Kube are two other startups with similar offerings. Both Flintobox and Kube have accompanying smartphone apps that are also an integral part of their offering.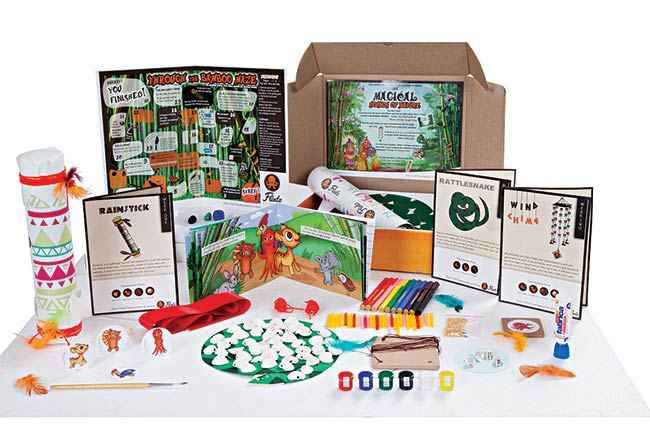 As you can see, Flintobox is filled with interesting activities
There are tablet manufacturers who are making devices specifically with kids in mind. Intel's Eddy tablet is one such device that is available online and comes with a protective case that can take occasional bumps. It comes with more than 160 applications and 100 books selected by educators. A more India oriented device would be the Lenovo CG Slate. While the tablet itself is manufactured by Lenovo and runs on Android Kitkat, the tablet is accompanied by a 32GB SD card. The CG Slate also sends progress reports to parents via SMS and email, and also allows parents to monitor the progress directly on the software in Parent Mode. On top of that, you can have multiple profiles on the same tablet, thus eliminating the need to buy different devices for your children. And since it is a fully functional android tablet, even you can use it.
For a section marked "The Toys", it would be silly if we didn't talk about actual toys for kids, wouldn't it? Thankfully, some creative startups have covered that special aspect of childhood as well! Toys-On-Rent is an online toy library that lets parents rent toys for their children based on a number of plans available. Any parent would agree that kids aren't exactly good at keeping their toys intact, or playing with them for a long time. So the availability of toy rental libraries is solving both of those problems at once. With the guarantee of the toys being sanitized and properly checked before delivery, renting plans from libraries like toys-on-rent is a great option for parents.
Stem Cell Preservation
Stem cells are widely used in regenerative medicine to treat a number of serious medical issues like damaged tissues, organ transplants and even cancer treatment. And one of the primary source of stem cells is the umbilical cord blood, which can be preserved in modern day cord blood banks. One of the first companies to offer this service in India is Lifecell, although there are more options out there now like Cordlife, Babycell and more.
The Tools
When it comes to technology and parenting influencing each other, there is more to it than just apps, kids tablets and content platforms. Manufacturers around the world who make things for children and parents alike are adapting technology into their products.
Women's health company Bloomlife says that its goal is to improve the health of mothers and babies by combining connected devices with data analytics to provide insights that reassure an expecting mother and keep her informed about the progress of her pregnancy. Their first device is Belli, a smart wearable to be used during the third trimester that tracks contractions and other details. This data is represented usefully in a mobile app where it helps the mother to plan their big day. And a future update to the device and the application plans to bring in additional insights like stress, sleep, kick counts, and activity levels while also incorporating a simple QnA feature that helps moms put their doubts to rest. This device not only saves an expecting mother quite a few possibly hectic trips to the doctor, the analytics provided by it are helpful to the doctor being consulted as well!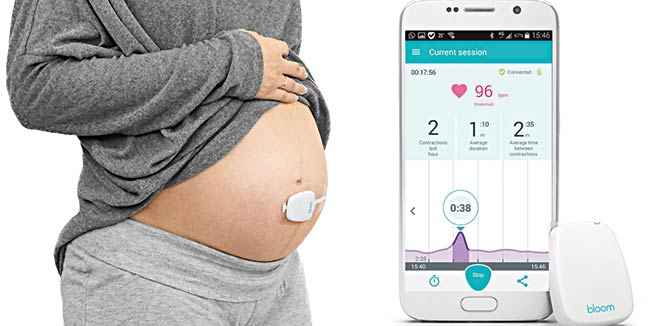 Future models of Belli will have additional features like kick count!
Another category of devices that comes strongly recommended from parents is a video baby monitor setup. This would essentially require a connected camera set up in the baby's room or around the house and an application to monitor it remotely. The Motorola MBP26 Video Baby Monitor is a good option available in India. It comes with a 2.4" LCD monitor and has a parent-baby camera setup (they've definitely named it right) that even supports infrared monitoring for the night.
Good Parenting
While one of technology's greatest gifts is that it does our work for us, it also brings about a lack of attention and increased distractions in most things we do, which could be especially harmful when parenting. All the apps, tablets, and gadgets in the world can't substitute a parent's instinct. So, for expecting and new parents alike, it is essential to remember that all of this technology is to make the huge responsibility of bringing up a child a bit easier to bear, not make it a lesser responsibility altogether!